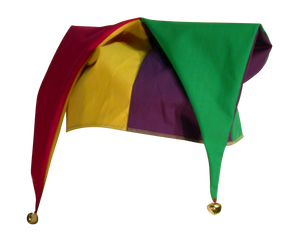 Jester Hat
Regular price
$8.00
$8.00
Everyone knows the importance of Being Prepared. You've stocked batteries, candles, water, matches, an emergency radio, rations, and everything you need for a natural disaster or zombie attack; but--have you thought of the chaos that awaits society in the event of a Comic Apocalypse?
Just think of the horror: roving bands of humorists, from professional comedians to practical jokers, who will not stop their routines until you laugh. Your only hope of survival is to pass among them unnoticed. A jester hat, the international symbol for foolishness, may save your life! Get yours now.*
*A particularly dangerous comic will practice Dark Humor on helpless victims. Be sure to stock a Dark Jester just in case.
One size fits most.
Broadcloth. 
Broadcloth: Cotton/polyester blend, shirtweight. Does not wrinkle, shrink or fade. Permanent press (warm wash, tumble dry low heat, remove promptly). Black, red, burgundy, navy, hunter, brown.
Brocade: Cotton plus various synthetic fibers, with same-color woven patterns, which will vary. Sturdy weight. Dry clean. Blue, hunter, burgundy.
Canvas:   Also called Duck Cloth. Stout cotton fabric with a coarse weave. Black, white, red, brown, or hunter green. Will fade like jeans. Cold wash, tumble dry low heat or line dry.
Fleece: Synthetic with velour-like drape; popular for outerwear. Good, practical substitute for wool. Black, burgundy, hunter green. Check for color availability before ordering; can vary with season. Washable, but dry cleaning is recommended to preserve the shape of capes.
Muslin:  Garment-quality, 100% cotton (not coarse utility muslin). Cold wash, line dry recommended. White or natural.
Poplin:  A cotton/polyester blend that does not wrinkle, shrink or fade. Heavier than shirtweight. Permanent press (warm wash, tumble dry low heat, remove promptly). Black, red, burgundy, navy, hunter.
Suede Cloth: A heavy, woven suede-like cloth of 100% polyester. Dry cleaning recommended.
Wool:   A natural fiber from sheep;   wool blends   include man-made fibers of various kinds. Holds colors well. Dry cleaning is recommended, but may be hand washed in cold water and dried flat. Do not wring. Never use hot water or a dryer. For seasonal storage, clean first and use the moth repellent of your choice.
---
Share this Product
---
More from this collection