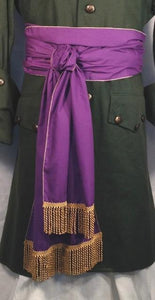 Sash
Regular price
$25.00
$25.00
No look is complete without flash: A bit of a dazzle and splash.
Wrapped this way or that, Or worn on your hat:
There's nothing so fine as a sash. 
Three yards of pure panache, plus three inches of golden fringe a-dance on either end. Knot it at your waist - throw it over a shoulder and tie it at the hip, musketeer-style - wrap it around your head for an exotic turban.
A sash was a must-have accessory for both men and women from ancient times into the 18th century; women didn't abandon them until flappers had faded from the scene. Get your very own White Pavilion sash, for very little cash!  You'll be a smash.
Width will vary slightly, from 14.5" to 15". Broadcloth. Dry clean only.   
Broadcloth: Cotton/polyester blend, shirtweight. Does not wrinkle, shrink or fade. Permanent press (warm wash, tumble dry low heat, remove promptly). Black, red, burgundy, navy, hunter, brown.
Brocade: Cotton plus various synthetic fibers, with same-color woven patterns, which will vary. Sturdy weight. Dry clean. Blue, hunter, burgundy.
Canvas:   Also called Duck Cloth. Stout cotton fabric with a coarse weave. Black, white, red, brown, or hunter green. Will fade like jeans. Cold wash, tumble dry low heat or line dry.
Fleece: Synthetic with velour-like drape; popular for outerwear. Good, practical substitute for wool. Black, burgundy, hunter green. Check for color availability before ordering; can vary with season. Washable, but dry cleaning is recommended to preserve the shape of capes.
Muslin:  Garment-quality, 100% cotton (not coarse utility muslin). Cold wash, line dry recommended. White or natural.
Poplin:  A cotton/polyester blend that does not wrinkle, shrink or fade. Heavier than shirtweight. Permanent press (warm wash, tumble dry low heat, remove promptly). Black, red, burgundy, navy, hunter.
Suede Cloth: A heavy, woven suede-like cloth of 100% polyester. Dry cleaning recommended.
Wool:   A natural fiber from sheep;   wool blends   include man-made fibers of various kinds. Holds colors well. Dry cleaning is recommended, but may be hand washed in cold water and dried flat. Do not wring. Never use hot water or a dryer. For seasonal storage, clean first and use the moth repellent of your choice.
---
Share this Product
---
More from this collection